TwoEyes VR: World's First Binocular 360 VR Camera
Meet TwoEyes VR, the first 360° 4K video camera that truly mirrors human eyesight. TwoEyes VR is equipped with two pairs of 180° lenses that are placed 65 mm apart, which is the average distance between people's eyes. This design, allows you to capture 360° around just like your natural eyes would view the world. Relive special moments with unparalleled realism through 360 social media platforms (Youtube 360, Facebook 360, Twitter 360), VR binoculars or 3D television.
TwoEyes VR offers two distinct modes. When you begin recording, if you hold TwoEyes VR vertically, it will film utilizing only two lenses in "One-eye Mode." Essentially, this will film videos in the same way as other 360° cameras on the market.

If you hold TwoEyes VR horizontally, it will record with all four lenses in "Two-eyes Mode." The embedded gyro sensor will automatically detect how you are holding TwoEyes VR. In "Two-eyes Mode" you will be capable of recording stunningly realistic 3D video.
Control TwoEyes VR manually through its simple two-button shooting controls or remotely through the companion application. Once you are finished shooting, you can edit it into different modes (VR, 360° or 3D).
Content shot on TwoEyes VR can be seen through an array of viewing experiences! Use a Head Mounted Display (HMD) for an immersive visual and audio VR experience. For a more casual and affordable experience use a cardboard VR headset to view VR content from your smartphone. For 3D video content, use 3D glasses or even display it on a 3D TV for images and videos that pop right out of the screen!
Share your content with friends or family on various social media platforms directly from the TwoEyes application. Sharing can be done instantaneously to Instagram or 360 compatible platforms such as Facebook 360 & Youtube 360.
TwoEyes VR is the world's first stereoscopic 4K 360° camera. TwoEyes VR accounts for the fact that your eyes are viewing an object from two different lines of sight. By accounting for this, the overlapping visual fields are able to gain depth perception which enhances the realism of the VR or 3D viewing experience.
The human eye is a very delicate organ that enables you to recognize elaborate three-dimensional views through the reception of external light. The human eyes are separated by approximately 65 mm, which is called a parallax. Your eyes naturally account for this separation when focusing on an object. However, this parallax has never been replicated in the VR functions of other 360° cameras.
While other 360° cameras boast VR functionality, they are only able to account for the separation between your eyes through an algorithm. Basically, other 360° cameras simply copy the same image and move it a set number of millimeters apart. TwoEyes VR is the first camera equipped with pairs of lenses to correspond to each eye, allowing you to capture your viewing reality precisely in the same way as your eyes!
TwoEyes VR is a top of the line 4K camera with a resolution of 3840 x 3840 @ 30 fps. TwoEyes VR is equipped with a 4K processor, 128 GB of internal storage, and a 2000 mAh lithium ion battery.
TwoEyes VR will be offered in two colors (White & Black). Color selection will be done through survey at the end of the Kickstarter campaign!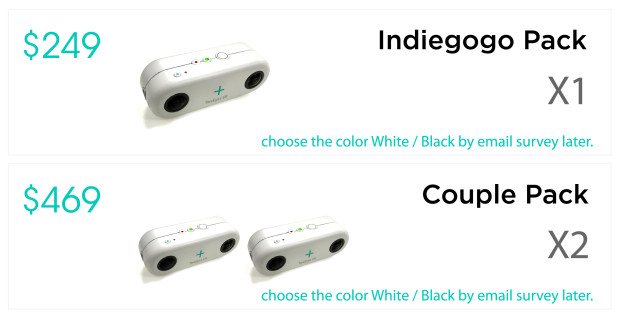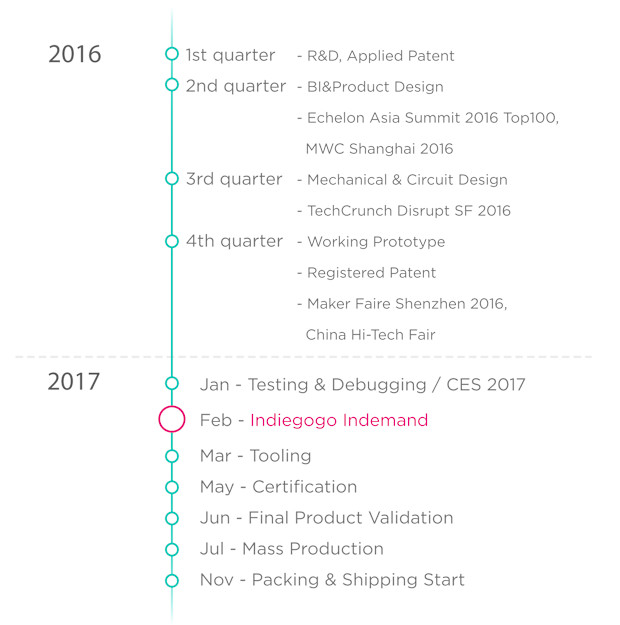 We at TwoEyes Tech have spent years developing the hardware and software to allow people to capture and create content from two different lines of sight, thereby mimicking human eye site. Drawing from our years of technical experience, we were able to create the world's first binocular 360 camera "TwoEyes VR", Our goal with Two Eyes VR is to create human technology that bring about a better quality of life for people by capturing moments and memories as they were meant to be captured.